If you have a specific sound or look in mind for a pedal or amp but can't find it on the market, custom work might be for you. I love making one-off pedals, and I'd be glad to work with you to build something unique.
Custom Effects Pedal Pricing
In each price range below, the low end is the cost of a simple circuit, like a buffer, and the high end is the cost of a more complex circuit like a reverb or delay. All prices are subject to change and variation depending on the simplicity or complexity of your needs. Click on any thumbnail for a larger view.
Plain metal enclosure – $60-150
Powder coat,  no graphic – $75-165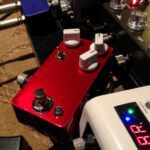 Fabric or fur coat, no graphic – $100-180

Powder coat + waterslide printed graphic – $125-205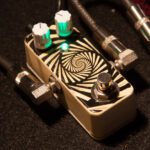 Powder coat + stenciled airbrushed graphics – $125-205

Powder coat + professionally UV printed full-color graphics – $155-255

Powder coat + acid-etched graphic – $155-255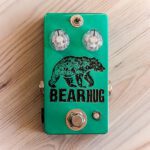 Reverse acid-etched graphics + airbrush color + powder clear coat – $175-315

Time to build is usually about 2-4 weeks once we've finalized the details of your pedal. Custom circuit designs or particularly difficult builds might take longer. UV printed pedals defintely take longer (~8 weeks) because of graphic design, the printing company's turnaround time, and shipping to/from printer. I believe in frequent communication and being up-front about everything, so you'll always know what's going on and what I expect the ETA to be.